Whitfield House Luxury Retreat is justly proud of its reputation as the premier regional wedding venue. It won the 2006 North Queensland Wedding Venue and Catering Award and does everything possible to maintain its reputation as the most exclusive place in North Queensland for weddings.

Each year we have lots of very special weddings and greatly value the fact that we have never had a complaint! Our staff are highly trained to take care of every detail to ensure that your wedding is very memorable. There will always be cheaper options but one of the most appreciated aspects of this venue is that you and your guests are the only ones present. Only one function is booked at a time, with ample time before and after your scheduled wedding to ensure complete privacy and exclusivity. Book a time to come with your families and see what a stunning location it is, ably supported by very experienced staff and excellent catering and alcohol options. We also have an in-house florist you may like to speak with to discuss options and prices.

Ask anyone who has had a wedding at Whitfield House Luxury Retreat. Style, elegance, professionalism, wonderful value. There are many options available, most guests choose to hire the entire venue from 9am of the day of their wedding till 11.30 pm.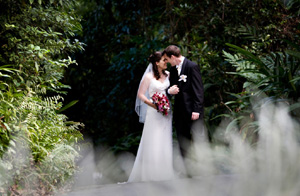 Many areas within Whitfield House are ideal for weddings but most ceremonies are held on the sweeping lawn, with the bride descending from the Flecker Terrace, making for stunning photo opportunities. Another option is the conversion of the garden gazebo into an elegant chapel complete with altar, featuring a large cross, a wedding bell and beautiful flower arrangements. Whitfield House is certainly the perfect venue for a very special wedding ceremony.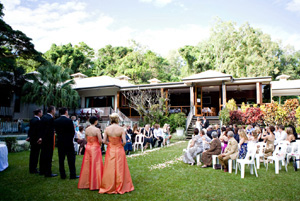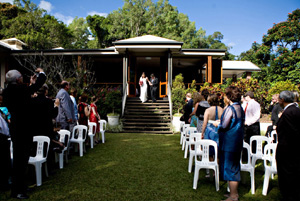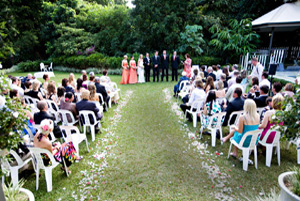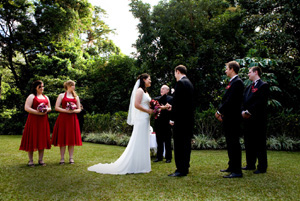 Spacious and level lawn to seat your wedding guests

Bridal entrance from the Flecker Terrace, down the elegant staircase and into the aisle